Podcast: Play in new window | Download
Subscribe: Google Podcasts | Spotify | RSS
Welcome to
The Hump! Podcast
…. In episode 14 of 
The Hump! Podcast: Beermageddon
 ….  hosts 
Brent Bowen
 and
Chad Beland
talk their impromptu Minneapolis craft beer trip.
The beer blizzard is coming in — it's a craft beer extravaganza!
The fellas road trip to Minnesota for Minneapolis craft beer. The scene is amazing, as they share their experiences from more than a dozen craft breweries.
In this episode, they also talk axe throwing, the Western Auto sign lighting, soccer and hotel room fires.
As for this week's round of Triple D, it's something that could quite easily happen at the Mall of America — not that we went — or after Boulevardia. We do talk about that dangerous experience.
So … now onto our Minneapolis Beermageddon ….
The Hump! Podcast Episode 14 Show Notes – Beermageddon
If You Missed The First Several Episodes
Miss the first several episodes of The Hump! Show? You can watch replays on Facebook or listen to them:
In Ep. 14 of The Hump! Podcast, Brent & Chad Chat Minneapolis Craft Beer!
But before learning all about the guys' last-minute Minneapolis vacation for a lot of craft beer, they  …
Share several toasts with a Minneapolis craft beer special … Modist Brewing Co. … Let's Go, Daddy-O! Double IPA. 

They provide their Toasts of The Week to …

Another round for Chad celebrating his birthday and his axe throwing skills at Blade & Timber! (We especially love the place because they constantly run ESPN "the Ocho" and lumberjack games.)
Our buddies Hunter and wife Renee — We saw their new addition this past week. Congratulations!
Fringe Beerworks for hosting Christmas in July … and having Founders Canadian Breakfast Stout on tap
Becca's nap time
The Western Auto lights (the art and bulb deal would make a great gift)
And chat about what they've got going on:

Brent's nephew is invading — so trouble won't be far behind
Annual "The Pitch's Best of KC" Awards …
Watching some championship soccer
Laughing at G's friend thinks Brent sounds like DMX
This Week's Topic and Segment — Minneapolis Craft Beer
In the Minneapolis craft beer discussion, Brent and Chad chat:
The fellas discuss the old man game of stair-step travel
The idea of hotel kitchenettes sound good in theory until … hotel room fire
Anybody got a beer list? Weird buildings and digital beer boards make for the best experiences
How Chad's birthday let to an empty cooler and some 30-odd crowlers returning home from Minnesota
Need breakfast? Mullets in Des Moines is a must stop for some morning road fuel.
We want the equivalent of Crowler Magazine in Kansas City
World Cup Soccer
Feather Bowling at Pryes Brewing Company — this is where they'll find our Olympic team when they make it an Olympic sport (Think bocce ball but with a large wooden wheel and a feather instead of the small ball marker.)
The Surly space, particularly the outdoor was something to behold
The sport of "Over 40 Parkour"
Perhaps their favorite beer space … Dangerous Man made Brent's Top 10 last year. Hear why …
The Hump! Minneapolis Beermageddon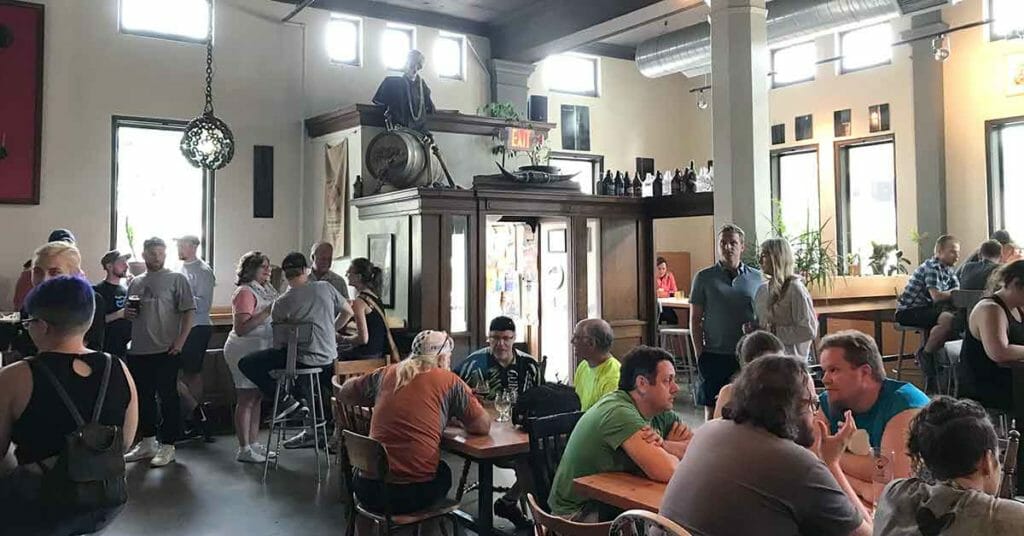 A Quick Pre-Triple D Tangent
Before they launch into Triple D, Chad throws down the gauntlet and posits whether:
There's a TRIPLE D CHAIN REACTION …
As an example, could a douche move, prompt a dick response that turns everyone into dumbasses. It's plausible. If you have a scenario, we'd love to hear it.
And This Episode's Game of "Triple D" …
To close out The Hump! Podcast … Brent and Chad play a quick round of Triple D.
What's Triple D?
They throw out a scenario … and discuss whether it's a DICK, DOUCHE or DUMBASS move. This episode's Triple D move. And it's travel-related at that:
This week's Triple D move — What do you call … "Someone who walks wide on the sidewalk so you have to jump into the grass — or worse — the street?"

We discuss that this is a common problem at shopping malls, too, especially Minneapolis' Mall of America. Not that we hit shopping malls very often.
We discuss and debate on the show, but feel free to leave your thoughts in the comments (keep it clean folks, as they reserve the right to delete any personal attacks or defamatory information).
You Can Catch The Hump! Live
You can watch Brent and Chad LIVE 7 p.m. CST most Wednesdays on Facebook  (and sometimes Instagram — when it works).
They'll publish the replays on Facebook and places where good audio can be found (see below platforms — and not saying they're good, but they'll slum along greatness).
If You Enjoy The Hump! Podcast? Spread The Love
Thanks for checking the guys out! If you enjoy The Hump! Podcast … go out to the …